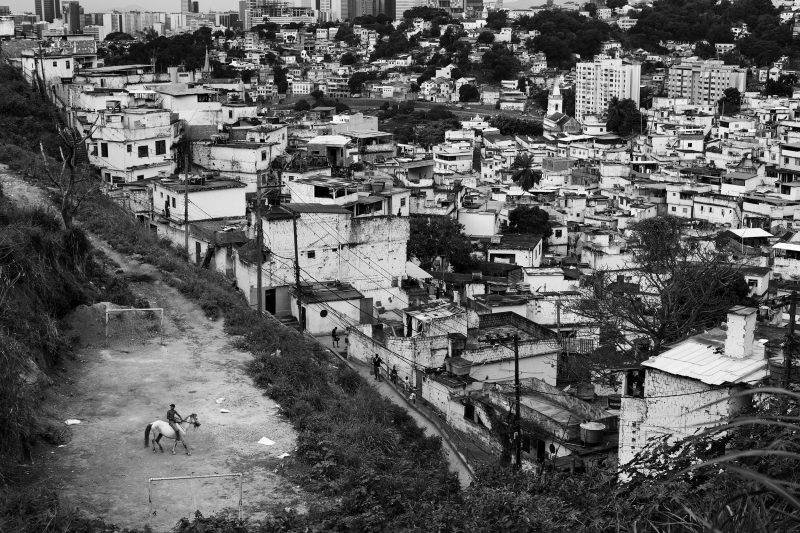 João Pina
46750
In 2007, Rio de Janeiro, Brazil started the process of an enormous transformation process to host both the 2014 FIFA world cup, and the 2016 summer Olympic games. 
The economy was favorable, due to the surge of commodity prices which Brazil vastly produces. The country turned its eyes toward a huge investment in the sports infrastructure, while the investment in public services such has housing, health or security was minimal. 
In 2016, while the World watched the Olympics, according to the Public Safety Institute of Rio de Janeiro, homicides went up by 20% and robbery went up more then 40%. 
The question that remains in the air is: Why is the price to pay for the major sports events bringing cities to bankruptcy? 
46750 is a visual account of the last decade of the city. A grim portrait of the so-called "wonder city", with all its contrasts and complexities. 46750 is also the number of homicides that occurred in the metropolitan area of Rio de Janeiro, an average of 13 homicides per day for the decade 2007-2016.
46750 will be João Pina's third book and will be published on the spring of 2018. The book is currently in pre-sale
 
Bio
João Pina is a freelance photographer born in Portugal in 1980. He began working as a professional photographer at age eighteen, and graduated from the International Center of Photography's Photojournalism and Documentary Photography program in New York in 2005. Pina's photographs have been published in D Magazine, Days Japan, El Pais,Expresso, GEO, La Vanguardia, New York Times, New Yorker, Newsweek, Stern, Time, and Visão, among others.
His work has been exhibited at the Open Society Foundations (New York), International Center of Photography (New York), Point of View Gallery (New York), Howard Greenberg Gallery (New York), King Juan Carlos Center – NYU (New York), Canon Gallery (Tokyo), Museu de Arte Moderna (Rio de Janeiro), Museo de Arte do Rio (Rio de Janeiro), Paço das Artes (São Paulo), Centro de Fotografia (Montevideo), Museo de la Memoria y los Derechos Humanos (Santiago de Chile), Parque de la Memoria (Buenos Aires), Torreão Poente – Museu de Lisboa (Lisbon), KGaleria (Lisbon), the Portuguese Center of Photography (Porto), Visa pour L'Image (Perpignan), and Reencontres d'Arles (Arles).
In 2007, Pina published his first book, Por Teu Livre Pensamento, featuring the stories of twenty-five former Portuguese political prisoners. This project inspired an Amnesty International advertising campaign that earned him a Gold Lion Award in the 2011 Cannes Lions International Festival of Creativity, and won the OSF – Moving Walls 21 in 2013. He also received the Estação Imagem grant in 2010, and was a finalist for the Henri Nannen and Care awards in 2011, and the Alexandra Boulat Grant in 2009.
In 2014, he finished his longest personal project, documenting the remants of Operation Condor, a large-scale secret military operation to eliminate political opposition to the military dictatorships in South America during the 1970s, resulting in his second book CONDOR.
His third book 46750, to be published on the spring of 2018, will focus on the ongoing urban violence in Rio de Janeiro and the city's transformation over the past decade while preparing for the 2014 FIFA World Cup and the 2016 Olympic Games.
He is a faculty member of the International Center of Photography in New York, and a regular lecturer and teacher of photography workshops.
 Currently he is a Nieman Fellow at Harvard University for
2017/2018
.
Related Links