[slidepress gallery='federicavalabrega_daughtersofthekingthebook']
Hover over the image for navigation and full screen controls
ESSAY CONTAINS EXPLICIT CONTENT
Federica Valabrega
Daughters of the King, the Book
In my photographs, I have sought to avoid the common stereotypes frequently attributed to Orthodox Jews. I have attempted to show aspects of these women, their most spiritual ones, those that transcend their religion and its strict rules governing the sanctity of their bodies. I chose to delve into a deeper dimension of my subjects' holiness–one of femininity accompanying every gesture, every moment of their daily lives as religious women. In my images, head coverings, long–sleeved dresses, modest skirts, and shoes ceased to be barriers to unwanted eyes, but instead became vessels, unveiling a deep, emotional access in the search for meaning as a woman.
"Daughters of the King" reveals the subtlest gestures of feminine beauty within moments of the daily lives of these women: The preparation for a wedding ceremony, the moment a mother and a daughter light candles before the beginning of Shabbat, or choosing a dress to wear for a particular occasion and combing their hair for an evening outing.
"Daughters of the King" began four years ago in New York in the streets of Crown Heights, the Lubavitch Orthodox neighborhood in Brooklyn, continued within the Breslov and Dati Lumi communities in Israel and the Sephardic Jews of Paris the next year and carried onward to Morocco and Tunisia within the old Jewish community of Casablanca and the folkloristic community of religious women in Djerba.
"I do not choose the women I photograph. They choose me. These women have not only 'lent me their stories,' they have also opened my heart to my own spirituality, revealing to me what it means to be a true Bat Melech beyond the limits of religion."
Daughters of The King will be showing in Rome at  ETG until January 15, 2014
DAUGHTERS OF THE KING by Federica Valabrega – published by BurnBooks on November, 2013 in an edition of 1000 copies –  dimension: 300mm x 200mm (12 " x 8 "), 88 pages plus 24 pages booklet with texts in english and italian –  – $ 40.00 – € 35,00 (excl. shipping)
Author: Federica Valabrega
Publisher: BurnBooks, 2013
Art Direction, Book Concept, Photoediting: Annalisa d'Angelo and Diego Orlando

Image Color Correction: Paolo Lecca
Book Design: Valeria Semenzato
Production manager: Diego Orlando for BurnBooks
Printing and Binding: Grafiche Antiga, Italy
DAUGHTERS OF THE KING  can now be ordered here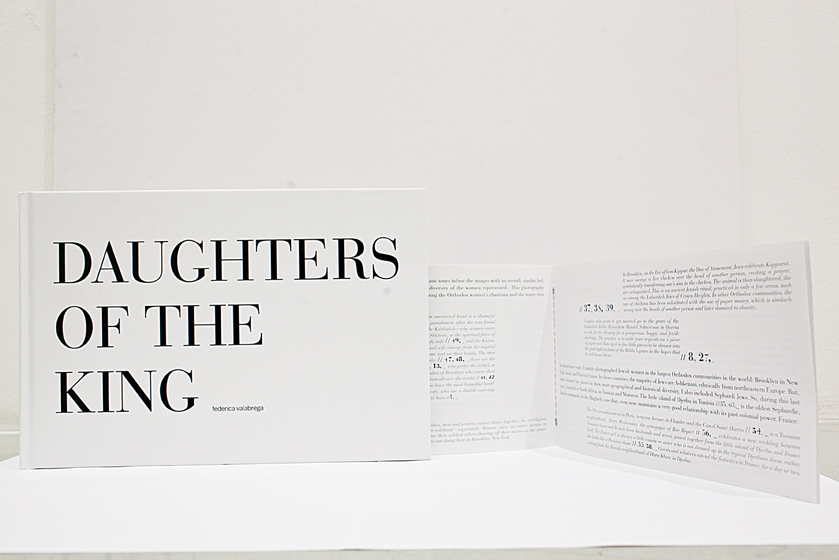 Related links