[slidepress gallery='michaelnicknichols_interview']
Hover over the image for navigation and full screen controls

David Alan Harvey: Now the thing is that you were a photographer first. When I met you, you were a Magnum photographer. Now you   are Editor at Large at National Geographic. Pretty obvious though, this doesn't seem to be an office job.
Michael "Nick" Nichols: I'm only a photographer.
DAH: You're only a photographer. Well no you're more than that. You do other things.
MN: But it all comes from photography.
DAH: I know it all comes from photography, but what I want to talk about, in today's world, and you evolved your photography and also into the…well you created the Look3 festival for one thing which is for other photographers beside yourself. So, you do a lot of stuff outside, you teach workshops.
MN: And that's since you and I are so joined at the hip because we both for some reason feel it is important to give it back to the next generation.
DAH: Why did we ever think that was a good idea?
MN: The reason it happened to me was because Charles Moore, my start came from somebody else saying, oh I'm going to help out this kid.
DAH: Right.
MN: And I like that, so I've always felt that it's important. And history is important to me, so building on something and not leaving it behind…if I meet a young photographer that doesn't know Alex Webb's work, or your's or Eugenes, I'm like, well what are you doing? You've got to build on stuff.
DAH: That's right. So Charles Moore helped you and then when he did that you felt like payback some day when you made it.
MN: Yeah.
DAH: Yeah, same for me. I felt that way when I was at my first Missouri workshop. These Life magazine and National Geographic photographers were looking at my contact sheets and I thought well, that's just the coolest thing…If I make it, I'm paying back too. So we're similar that way.
MN: And just in full disclosure, I love you dearly, your one of my best friends, I never get to see you, I've followed Burn from the beginning although I'm not part of Burn. You know, I'm fully supportive of everything you do even if I'm not there.
DAH: You are part of Burn.
MN: You know this is my first appearance in Burn…this interview. But I've been with Burn from the beginning because I believe in what your doing. Always. And I know that you're with me when I'm with the lions. Somewhere there.
DAH: Oh, always with you when your with the lions.
MN: Were going to some day sit on the porch and do what we say were gonna do.
DAH: Yeah, the only problem we've got is that for some reason we're like work-aholics or something. We can't get to that porch. You've got a nice porch to sit on. We've done some of that during Look3 and previous visits to your house. And you've come down and visited my family at the beach and I got an extra bedroom for you at my house, so you're welcome.
MN: And that's the other thing…my family feels like your part of our family.
DAH: Well we feel that way about each other, yes.
MN: And your kids treat me as if I'm part of the family. So I want everybody to know that we're not just casual acquaintances.
DAH: Well that's right, that's right.
MN: Yeah.
DAH: I mean and we have a lot of fun together. Somehow we always manage to have a lot of fun together. And a lot of laughs, but you're way different from me in one respect because, and Bryan has even told me this, Bryan who went to the Ndoki with you and made his first film on you on the Ndoki, told me…basically told me that well, Nick works way harder than you do Dad. And I think there's no doubt about that. When I look at the films, when I look at the stuff, the logistics, the things that you have to deal with to get those pictures, you have to go through a whole lot of logistical stuff before you can even begin to take…
MN: Easily by the time I get to an assignment I'm completely exhausted because of the money I had to raise, all the gear I had to put together, all the…this last one's 50 boxes going to Tanzania, two years of fundraising, you know, literally almost 10 years of talking about lions, and then you, of course, your pictures have to start to live up to all the hype that you've…not hype…whatever you've done to…and if I had to say who my favorite photographer on earth was, it would be a battle between Alex and Eugene because I love that complexity. And to do that in natural history is incredibly difficult. So, you know, I'm not satisfied with a telephoto lens but sometimes that's where you are. So, it's incredibly difficult technically, but I don't want anybody to see the technical when they see the picture. You know, when they look at that tree, if they're thinking about how we put it together, than I missed them. I didn't do it right. It's supposed to be spiritual. And so I'm trying to get back to the simplicity that David Alan Harvey uses in his photography. But the level of work that takes…but you know the part about working so hard is I am incredibly driven. You know, I drive myself to collapse, and the only other person I can compare that to is Jim, on the fact that we'll work ourself till we die, but I don't know any other way. I don't know half. I don't know thirty percent. That's why I'm gonna quit, because I can't figure out how to slow down.
DAH: But you've been saying "i quit" for a long time.
MN: Yeah but I'm serious. When I said last waltz, what I mean literally is that, like they did, they didn't quit playing music, or I'm not going to be a National Geographic's guy after this project and I'm not going to move on to the next project. I'll extend this one as long as I can, but then I want to go back and say, can I be David? Can I be simple? Because there's too much volume in what I do. There's too much noise.
DAH: There's a lot of moving parts to what you do.
MN: Yeah, and the stress level and the fact that I've got this incredible woman in my life, who has been there for the whole trip, and you know you can fuck that up, and I survived all the chances to fuck it up. And so the fact that she's still with me and we're tighter now than we've ever been.
DAH: Well I see that, I see that, it's amazing. Well Reba is an amazing woman and you've been gone, you've been out in the jungle, you've been in the top of a tree for months at a time, and she's still there when you get back. Part of it probably is that she's an artist herself.
MN: She was attracted to me because I was an artist and I was attracted to her because she was an artist. So we support the obsession of being an artist. And I, you know, people can cut and slice any way they want, I was gone while the kids were growing and I didn't get penalized for that. You can get penalized for that. But now that they've grown, I'm sitting there with them. I'm with them.
DAH: No I see that, I see that. Well let me just go back just for a second here because when I met you, I mean now you're a senior editor, what is your exact title? Editor at large?
MN: I'm Editor at Large.
DAH: Ahhh busted, you had to stop and think about your title Nick. Size does matter.
MN: Laughing..Well no, because I work so hard to get that word staff photographer off my title. I hate that word. It's venom to me. You know, because it means ownership. I'm not owned by anybody. I assure you that. I'm milking this place like nobody in the history of photography.
DAH: No, no, don't  worry  this is an honest conversation…. it is too late for either of us to get fired.
MN: Well, I've given them more than I got.
DAH: Well of course you have and they know that. That goes without saying. They know that.
MN: But I like the tone of editor at large because what that means is not in the office. It means out there. So I fought really hard for that title.
DAH: And you're keeping readers for them too. You're good business.
MN: Some of my colleagues think that I'm old. I'm not old.
DAH: David Alan Harvey doesn't think you've ever been old. When I met you, you gotta remember, you were a Magnum photographer when I met you and you shifted from Magnum to National Geographic, from an institutional standpoint, spiritually you are a Magnum photographer. Funny how we literally "traded places"..But you needed the capital resourcing. Period.
MN: Yeah exactly, Magnum is in my DNA.
DAH: But the thing is, I can go out and do my thing for ten dollars and where I need ten dollars you need a hundred thousand dollars, therefore you needed the National Geographic behind you. NatGeo has been good to you…and to me.
MN: And I can't justify what I do if I'm not reaching the planet. I gotta have a huge audience because my work is about saving the planet, you know. Its not about me, its about tigers and elephants and stuff like that. So if I didn't have this microphone, I'd just be pissing into the wind. This is the only place on earth that I can do what I do.
DAH: That's right. Ok Chris (Johns) in his article was talking about being driven. I feel driven, and sometimes I feel like it's a burden almost to be driven because you can't get off of it. When you were a kid, I saw a picture of you in the 4th or 5th grade in Alabama. That's where you're from.
MN: Yeah
DAH: That's where Reba is from.
MN: Yeah, that's why I'm called Nick. My best friend's growing up we're Bubba, Fuzzy, and Stevie Wonder.
DAH: My nickname was Heavenly.  I know your mother. Partied with your mother and you and the gang. I photographed you and your mother together for my family project. Where's that drive coming from? What's the nut of that thing? Where's that fire coming from? Where's that work ethic coming from?
MN: Fear, first off.
DAH: Fear works.
MN: Fear of failure. I'd love for people to understand that no matter where you get it, if your not afraid, something's wrong with you. Every time you go out, you should be afraid. But then the work ethic of being poor…my mom raised us, my dad left when I was a kid, she's had no education, and my dad was in the picture but he always thought, your just a lazy hippy. You know, I'm obsessive, I'm obsessive compulsive and photography gives me a….
DAH: a kind of  hippy.
MN: I'm definitely a hippy.
DAH: And yet you've got a work ethic.
MN: I've got a pop side to me. My stories are very popular. I can tell you that the readers love them.
DAH: Oh yeah, I love them too.
MN: But the work thing is…I don't know anything else. That's the problem. I don't know how to turn it down. Once that train left the station, and I got on it, I haven't figured out how to ever get off.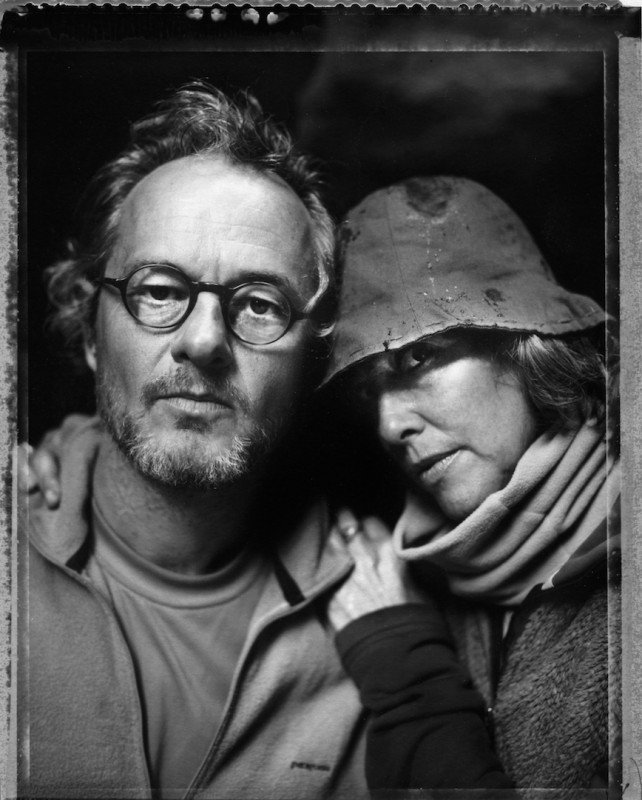 Photo taken by Kyle George
View Nicks personal website at www.michaelnicknichols.com or go directly to his iPad app here.
Related Links
LOOK3 Festival of the Photograph